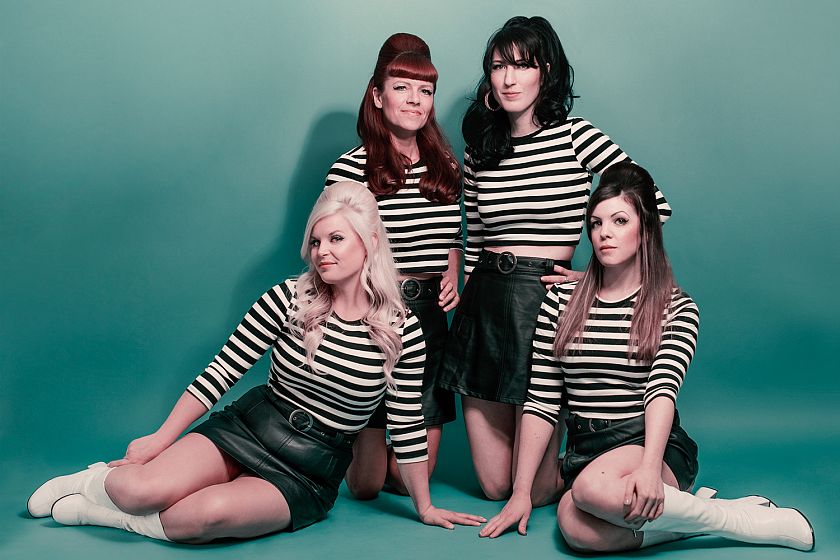 The Surfrajettes
The Surfrajettes
The Surfrajettes are a four-piece instrumental surfing group from Toronto, ON, Canada. Since forming in late 2015, the band has charmed audiences with their clever mix of psychedelic rock and reverb-drenched surf music, sky-high beehives, go-go boots, and eyeliner as thick as their guitar strings.
The band achieved viral online notoriety from their home-made performance videos and their feature by Norman's Rare Guitars in LA. The debut 45 single "Party Line / Toxic" released late 2018 on

Hi-Tide Recordings

to immediate success. The band has toured extensively in its support, including festival appearances at

Viva Las Vegas Rockabilly Weekender, Nashville Boogie, Wild O Fest in Mexico City, the New England Shake-Up!, Surf Guitar 101 Convention, Tiki Oasis and Hi-Tide Summer Holiday: Asbury Park.
New single "Hale'iwa Hustle b/w Banzai Pipelline" hits stores April 10, 2020 from
Hi-Tide Recordings
.
The Surfrajettes are guitarists Shermy Freeman and Nicole Damoff, bassist Sarah Butler, and drummer Anna Liebel. When not on tour, the group is busy woodshedding in their secret beach hut, sewing new miniskirts, debating vintage gear, and daydreaming about performing in a Quentin Tarantino movie.
The Surfrajettes

1:00 PM - 2:15 PM

The Surfrajettes

6:30 PM - 7:45 PM